Water Well and Well Pump Services
Guthrie & Frey, Inc. is a local, family-owned well pump company, which has consistently provided prompt, expert service to thousands of area households for over 35 years.   We maintain a commitment to provide personalized service at competitive prices.  When giving consideration to the selection of a contractor to install or repair your well pump system, please click here to contact Guthrie & Frey, Inc.
Most people know very little about how the precious commodity, water, is delivered into their home.  Unlike the more visible aspects of a home, such as carpeting and woodwork, the well pump is installed deep into the well where it is designed to provide years of trouble-free operation.  Because the well pump system is largely "out of sight", it should by no means be "out of mind".  The fact that the homeowner or builder cannot see the primary components of the water supply system makes it critical to select an established and reputable contractor who has consistently installed or replaced thousands of systems in the area.  Since well water is truly a "treasure" which is shared by all, it is important to work with a company that has a proven commitment to the industry.
Guthrie & Frey, Inc. has installed and serviced thousands of well pump systems throughout southeast Wisconsin.  Experience and reliability make our company a leader in the installation of both new and repair systems.  Not only do we install the pumps in newly constructed homes, but we are there to meet any future service needs: replacement of existing pumps and materials in the well, replacement of pressure tanks and associated piping, repair of underground leaks, code conformance repairs, chlorinating of wells, water sampling.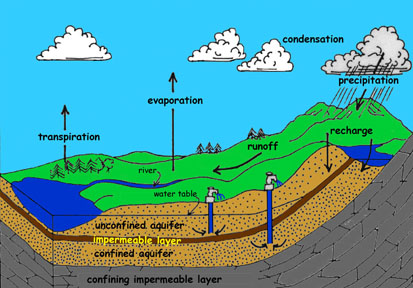 Water generally exists in plentiful supplies under the surface of the earth in Southeastern Wisconsin.  This supply of water originates from rain that falls to the earth as part of the natural cycle of water – the excess rain and snow, which is not directly utilized by plants, eventually percolates down into the earth.  As the water makes its descent, it is purified by the earth's filtration process and is finally collected in subsurface cavities known as aquifers.  The well is drilled as a vertical hole into this subterranean water supply.
A pump is then installed into the well and delivers the water into your home where it is available to meet your needs.  It is our commitment to install a well pump system, which will deliver years of dependable operation.
The Wisconsin Department of Natural Resources regulates the industry by issuing licenses to contractors who meet continuing educational and experience requirements.  Guthrie & Frey, Inc. has been licensed for over 35 years and is qualified to advise you of proper installation procedures to help insure a safe, reliable supply of water.